compensation: Paid at Escrow
employment type: part-time

QR Code Link to This Post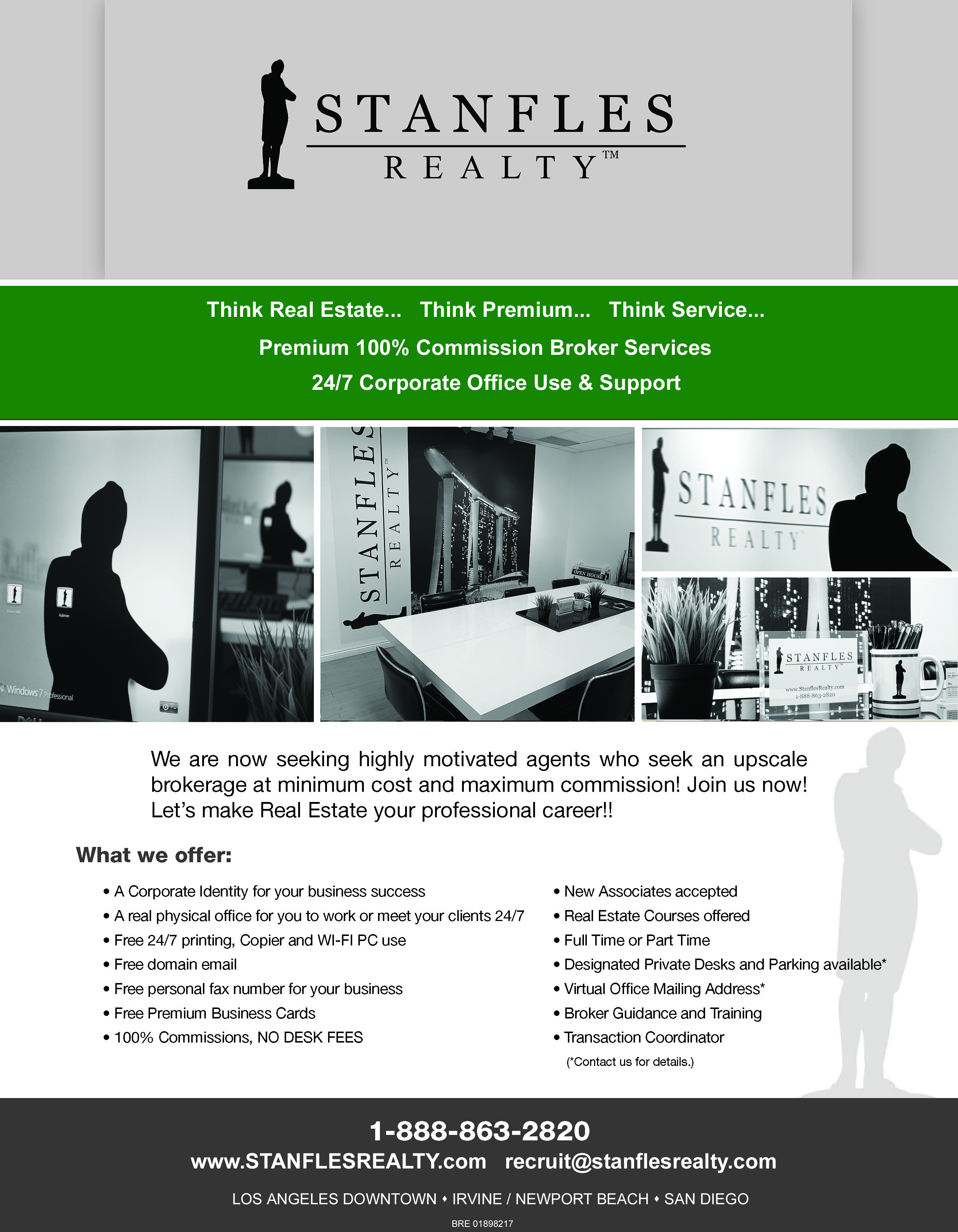 Search us on Google here... Search Google Here
As we rebrand as STANFLES REALTY for global franchising roll out, check us out at.....
www.stanflesrealty.com

Complete the Contact Us Form on the website and we will forward you the details.. Come for a office visit and get a STARBUCKS gift card.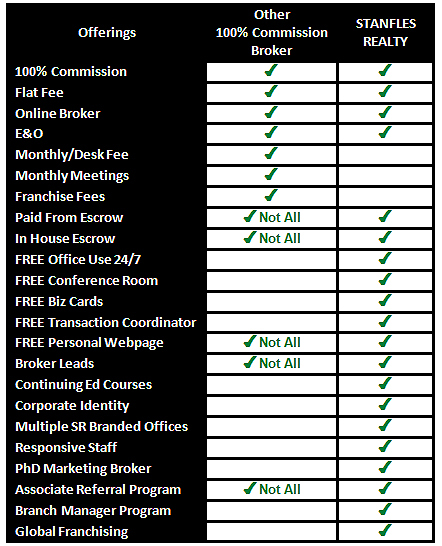 Watch our promotional video here

TEXT VERSION
============
NOW OPEN IN LOS ANGELES, IRVINE-NEWPORT BEACH, SAN DIEGO We are now seeking highly motivated agents who seek an upscale brokerage with minimal cost and maximum commission!!

STANFLES REALTY is one of the fastest growing real estate firms in California. We are now looking for Associate Brokers/Agents to be Branch Managers in different parts of California. We are now in Los Angeles, Irvine-Newport Beach and San Diego.

Our structure allows you the flexibility to negotiate with your clients. You are your own boss and have the freedom to work part time or full time. We are not a company that offers you a barebone price for barebone services, we are here to help you succeed and to grow to be the number 1 value brokerage for agents. STANFLES REALTY focuses on creating value for our associates and our customers. Price wars are not in our vocabulary as that means we have to compromise on quality.

Make an appointment with the Broker, see the office, chat with us, you will see that we are real, the office is real, we are truly a Los Angeles downtown upscale brokerage. The branding is real, the Broker is local, the office is a STANFLES REALTY Branded office.

Unlike other 100% commission Brokerages, we have a local PhD Professor Broker who actually meets and trains you 1-1, a real physical STANFLES REALTY Branded office with a conference room in Downtown LA, and basically real people. We do not advertise 30-40 locations when those are actually shared offices with other firms. We are the real deal here. Still have doubts, CALL the broker of any firm and try to make an appointment. See whether they have time to entertain you, PLUS meet you and be PROUD of their office and location and brand AND give you a great deal and autonomy. Call us now, check us out!

Our Broker is a practicing Broker Professor who conducts Real Estate courses locally and internationally as well as engages in transactions with high net worth clients from China, Korea, Singapore, Canada and USA. As we have high end clients, we have a high end office to complement the need for a place to meet out clientele. Hence we are sharing the office with local associates who understand that a Prime location Branded office is critical especially when you have a high end client... as they will refer other high end clients. It is all about trust and confidence relationship in real estate. Just tell your clients your broker is a practicing Real Estate PhD Professor, you will have more credibility and assurance for your clients as well.

We are also looking for Associate Brokers/Agents to be Branch Managers in different parts of California. Basically for Branch Managers looking to set up a branch office. You will run it like its your own business, but under our flag with mutually agreed fees or dues to head office.

What we offer is a differentiated service for associates with an economical cost:-

A Corporate Identity for your business success
A real physical office for you to work or meet your clients 24/7
Free 24/7 printing, Copier and WIFI PC use
Free domain email ie. you with our domain stanflesrealty.com
Free personal fax number for your business
Free Premium Business Cards
100% Commissions, No Desk Fees, No Hidden Fees.
New Associates accepted
RE Courses offered
Full Time, Part-Time, No Time - you decide
Designated Private Desks and Parking available
Virtual Office Mailing Address
Personal Web pages
Broker guidance and training.
Transaction Coordinator with Short Sale and REO experience available (flat fee paid from Escrow)
Referring agent gets paid $50 for EVERY transaction referred agent closes for LIFE
Paid from Escrow
Broker Leads both local and international
Retail Office store walk in leads available
Broker has a PhD in Marketing from a top N American University
In-house referral Programs. Leads generated from real estate sites and targeted ads in Bing, Yahoo and Google.
Member BHGLAAR, OCAR, PWR, SGVAR, CVAR, GAVAR, SDAR, SRAR, IVAR,SMAOR, SRCAR, INGLEWOOD, CAR, NAR, CLAW, CRISNET, ITECH, CRMLS, VCRDS, CARETS, SANDICOR, MLS Listings (for other associations, please inquire)

As we rebrand as STANFLES REALTY for global franchising roll out, check us out at.....
www.stanflesrealty.com
Complete the Contact Us Form on the website and we will forward you the details.


Principals only. Recruiters, please don't contact this job poster.
do NOT contact us with unsolicited services or offers
post id: 7004322950
posted: